Bialowieza International Solidarity Network (BISON)
For 15 years Polish and international scientific institutions, is informal, international social movement to protect Puszcza Bialowieska - the Bialowieza Forest. BISON is rooted in Bialowieza and links with officially incorporated ngo Towarzystwo Ochrony Krajobrazu (Society for Landscape Protection).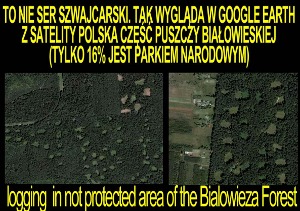 Puszcza Bialowieska is Europe's heritage, a forest that survived thousands of year. A dense forest cover such as this once stretched from the Ural Mountains to the Atlantic coast, and Bialowieza is the last small fragment of mixed lowland forest that survived to this day. This precious and rare forest spreading across Poland and Belarus covers an area of 600 sq. kilometres, yet only 105 sq. kilometres are protected by the status of a national park. . This accounts for only 0,03% of the territory of Poland and 0,001% of the territory of Europe
For 15 years Polish and international scientific institutions, NGOs and thousands of ordinary people have been demanding that the whole Forest be embraced in the status of a national park. Meanwhile, increasing pressure from investors and the economy deprives the Forest of its primeval character.
BISON for the Bialowieza Forest - results unknown
March 3 2006 was a day of international solidarity for the Bialowieza Forest. BISON network organized international visits to Polish Embassies around the world as part of the campaign to save the Bialowieza Forest.

The Polish President Lech Kaczynski received at the beginning 5.5 thousand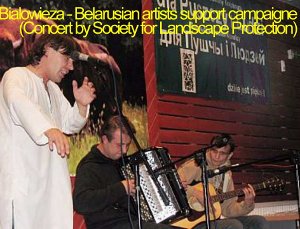 at last about 10 thousand letters from BISON supporters and on March 3, 2006 four representatives of BISON had a meeting with minister Ewa Junczyk-Ziomecka from the Presidents office.

As a result of this action the Polish President has designed a commission to look into better protection for the Bialowieza Forest. Althought the outcome of their decision is unknown BISON views this as a positive response to our international day of action March, 2006. But now is 2008!, in Poland the government has been changed, only 16% of the Bialowieza Forest is a national park, Bialowieza Forest still is not efficiently protected.

We still need a pressure on the Polish politicians. Stop logging Bialowieza Forest! 16% is not enough, make it 100% national park!

the national park status would constitute an action against the expectations of millions of people who care for the environment. Indeed, the historical responsibility for Puszcza Bialowieska lies with the politicians - let them hear it.